---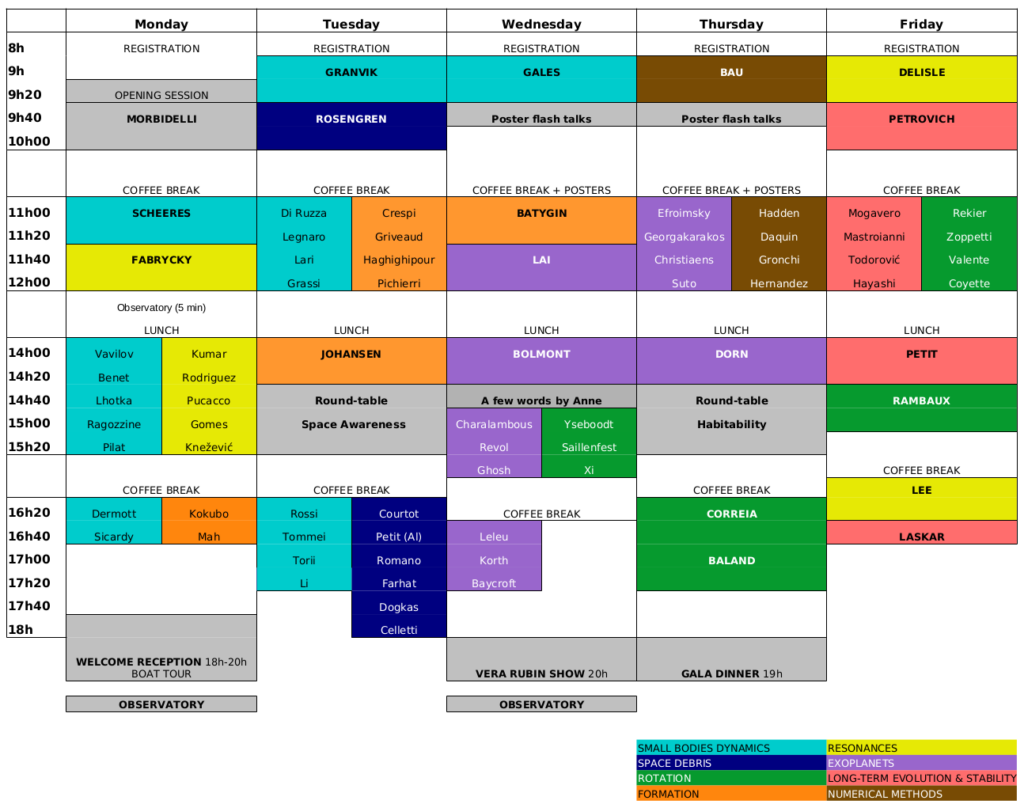 ---
Talks of 15′ (+5′ for questions), invited talks of 30′ (+10′ for questions).
---
Poster sessions on Wednesday and Thursday with poster flash talks (1 minute, 1 slide). Posters A0 displayed all the week.
Thanks to its sponsors, CPS2 will offer FOUR poster prizes of 250€ each, two of them in the field of Space Awareness and the other two on Complex Planetary Systems. For each category, the prizes will be awarded to a PhD student and a senior scientist. 

The results will be announced by the jury at the Gala dinner and then be posted on the website of CPS2. Except in case of an explicit refusal, all the poster participants are assumed to participate to the competition.
If necessary, poster printing is possible at Mister Copy Namur – All Printing Services (Rue de Bruxelles 32). Please bear in mind that opening hours may vary in summer.
---
Round-tables
Space awareness
Aaron Rosengren (University of California): Space debris dynamics
Jean-Marc Van Nypelseer (Fondation pour les générations futures): An initiative in space debris removal
Daniel Hestroffer (Observatoire de Paris): Hazardous asteroids and the Hera mission
Catherine Linard (UNamur): Mapping population from space
Yaël Nazé (ULiège): Food for thought
Habitability
Emeline Bolmont (University of Geneva): Habitable worlds and climate
Michaël Gillon (ULiège): Future detections of habitable worlds
Emmanuelle Javaux (ULiège): From early Life to Habitability
Vinciane Debaille (ULB): Life and meteorites
Boris Hespeels (UNamur): Rotifers in space
---
Registration
on Sunday 2/7 from 4PM to 8PM at Auditorium S01 (Rue Grafé 2, see Venue),
from Monday 3/7 to Friday 7/7 from 8AM to 9AM
---
Social activities (included in the registration fees):
Welcome reception – Boat tour, departure: Quai des chasseurs ardennais au pont de Jambes, departure time: 6PM,
Vera Rubin show – Le Delta (avenue Fernand Golenvaux 18),
Guided underground tour of the citadel of Namur on Tuesday (15h30), Friday (14h, 15h30), and Saturday (10h30). Inscription at the registration desk.
Visit of the UNamur Observatory on Monday and Wednesday. Inscription at the registration desk.
More information here
---
Lunch at the University restaurant
Lunch tickets for the 5 days, for a main course (several possible choices), a drink, and a dessert. A vegetarian option will be proposed to those who have explicitly mentioned it in the online registration. For the other special requests mentioned in the registration, namely vegan, halal, and gluten free, the university restaurant will propose every day an adapted menu.